1987-1991 Ford IDI Diesel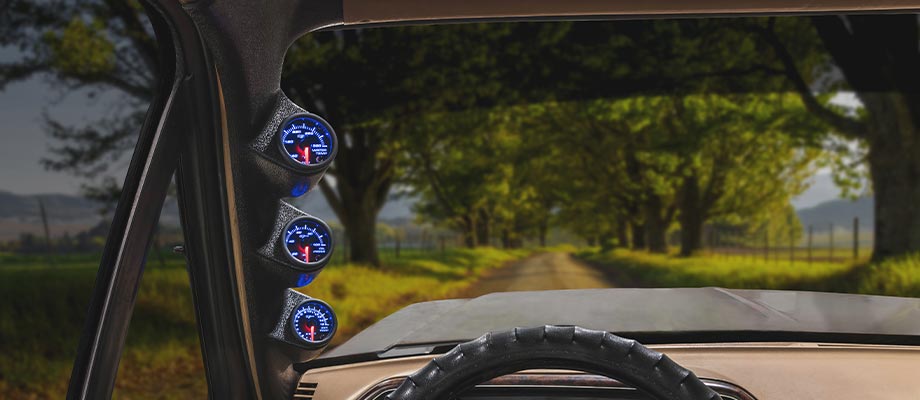 Get the most out of your OBS with gauges, pods and more for any 1987-1991 Ford F-Series truck. Choose from over 20 different engine applications to monitor and make sure your 7.3L IDI is performing at its peak, along with preventing any harmful engine wear and other potential long term damage. GlowShift's lineup of cutting-edge gauges come equipped with a wide range of features including ultra-bright LED displays which will enhance the look of your Ford truck's interior. Along with the choice of gauges, black triple pillar gauge pods are also available which are an overlay of the factory A-pillar. These OBS Ford gauge pods are made from high-quality ABS plastic and can also be painted using ABS plastic paint for a custom fit and finish in your F-150, F-250 or F-350. On top of gauges and pods, a variety of gauge accessories are also available including adapters and wiring kits that help with the installation process. All products can be purchased individually, or you can combine both OBS gauges and pods into fully customizable gauge packages featuring your choice of three gauges to go with the triple pillar pod. Any optional accessories can also be added to these gauge packages. With GlowShift, you'll have the ability to make sure this classic Ford truck will be around for years to come by staying on top of the performance of your IDI with OBS ford pillar gauges and pods.
Every gauge comes with the choice between several unique GlowShift Gauge Series which will define the look of your gauge. Choose between an analog or digital display, multiple LED color options for that display, a black or white gauge face, magnified clear or tinted lens, and more. For the 87-91 F-Series, we recommend going with the Black 7 Color Series. This series features a black gauge face, magnified clear lens and selectable 7 color LED through dial lighting for a unique and customized look. The 7 LED solid color modes available are Blue, Green, Red, Teal, Yellow, Purple and White.
F-Series Custom Gauge Packages
| | | |
| --- | --- | --- |
| Choose between the Black, White or Tinted 7 Color Gauge Series, 3 GlowShift Gauges, and also receive a custom-made Black Triple Pillar Pod. | Select 3 GlowShift Gauges from the innovative 10 Color Digital Series and also receive a custom-made Black Triple Pillar Pod. | Choose a MaxTow Double Vision™ Gauge Series, 3 gauges and also receive a custom-made Black Triple Pillar Pod. |
IDI 35 PSI Boost Gauge
| | |
| --- | --- |
| | Adding aftermarket turbo to the 87-91 F-Series is a popular modification for this Ford truck year range. With a turbocharged IDI diesel engine, boost pressure levels tend to run at about 15-20 PSI, which is why GlowShift's 35 PSI boost gauge is an ideal fit. The 7.3L IDI 35 PSI Boost Gauge was made for any F-150, F-250 or F-350 that's been upgraded with turbo, giving you the ability to easily monitor your Ford truck's boost pressure levels from 0 to 35 PSI through one gauge. A boost gauge is a great fit for monitoring your 87-91 F-Series to make sure you're getting the most out of a turbo addition. Whether your IDI diesel engine is strictly recreational or you're using it for work applications like hauling heavy loads, an F-Series boost gauge will alert you in the event your turbo isn't creating boost levels that are within the expected range. This mechanical gauge also comes with everything required for installation, including 9' of Boost Line and Compression Fittings which give you access to extremely accurate readings when you drill and tap your IDI's intake manifold. |
IDI 1500 EGT Gauge
| | |
| --- | --- |
| | The 1500° F Pyrometer EGT Gauge is essential for anyone driving a 1987-1991 Ford F-Series with a 7.3L who is pushing for maximum output of their IDI. This gauge will ensure that your exhaust gas temperature is not running too hot which could result in engine failure. With unique features such as simple Plug and Play connectors on the back of the gauge for the power and sensor harnesses, once installed this exhaust gas temperature gauge will display accurate readings from 0 to 1500° Fahrenheit. Readings up to 1500° work for many diesel F-150s, F-250s and F-350s, with this gauge typically being enough to cover the range regardless of the engine size. The 7.3L IDI 1500 EGT gauge is also designed for Ford trucks traveling longer distances and towing heavy loads, two factors which can at times put more stress on the engine and generate higher exhaust gas temperatures. This Ford F-Series EGT gauge comes with everything required for installation, including a ⅛-27 NPT Type K Thermocouple EGT Probe with a Waterproof Connector that features 3' of steel braided cable and ⅛-27 NPT threads. A 2' power harness and 6' steel braided sensor harness with waterproof connector are also included which plug into the probe's connector. |
Transmission Temp Gauge
| | |
| --- | --- |
| | When it comes to OBS Ford digital gauges and analog gauges, a Transmission Temperature Gauge is essential for any 7.3L IDI and goes hand-in-hand with monitoring 87-91 F-Series C6 or E40D transmissions, especially when these diesel trucks are towing heavy loads. This gauge allows you to closely monitor the temperature of your transmission, ensuring that it does not overheat causing significant damage. Once you connect the included electronic transmission temperature sensor with ⅛-27 NPT male threads, this IDI trans temp gauge will take extremely accurate readings from 80° to 260° Fahrenheit. One of the major factors in reducing the life of an F-Series transmission is overheating, and one of the main reasons a truck transmission overheats is due to the strain of towing larger and heavier amounts of cargo. A Ford F-Series trans temp gauge will monitor transmission temperatures during a larger haul and alert you in the event of temperature spikes. Another issue is older transmission fluid. Older transmission fluid will be less effective at performing its primary functions, one of the most important of which is keeping the system cool. The typical range for transmission fluid temperature is between 175° and 225°, and keeping within that average range is vital to your transmission's long term performance. By having an 87-91 F-Series trans temp gauge, you'll be one step ahead of any possible issues involving overheating that could potentially seize your transmission. |
IDI 30 PSI Fuel Pressure Gauge
| | |
| --- | --- |
| | The 30 PSI Fuel Pressure Gauge for the 1987-1991 Ford F-Series F-150, F-250 and F-350 with a 7.3L IDI displays readings from 0 to 30 PSI, ensuring your fuel pressure is running at optimal levels. For the 87-91 F-Series, an average range of 9-11 PSI is ideal. You want to make sure that you have proper fuel pressure under load and that your fuel system can handle the amount of power your F-Series is producing. Ultimately, keeping your fuel pressure within the proper range will ensure that your F-150, F-250 or F-350 continues to run at peak efficiency. However, this fuel pressure gauge is a valuable addition to any F-Series not only for monitoring purposes to avoid any potential damage. It will also help to ensure that you're getting the best performance out of your diesel engine, whether you're using your Ford truck for work or recreation. This 30 PSI IDI fuel pressure gauge also comes with parts required for installation. Included is a 1/8-27 NPT electronic 30 PSI fuel pressure sensor, allowing it to be installed directly to your F-Series fuel system with the included 9' sensor harness. |
F-Series Gauge Pods
| | |
| --- | --- |
| Black Triple Pillar Pod that is mounted to the factory A-pillar and holds 3 GlowShift Gauges. Can also be painted using ABS plastic paint. | Black Partial Mount Dual Pillar Pod that is mounted to the factory A-pillar and holds 2 GlowShift Gauges. Can also be painted using ABS plastic paint. |
Fitment Details
| Year | Make | Model | Engine |
| --- | --- | --- | --- |
| 1987 | Ford | F-Series F-150, F-250 & F-350 | 7.3L IDI |
| 1988 | Ford | F-Series F-150, F-250 & F-350 | 7.3L IDI |
| 1989 | Ford | F-Series F-150, F-250 & F-350 | 7.3L IDI |
| 1990 | Ford | F-Series F-150, F-250 & F-350 | 7.3L IDI |
| 1991 | Ford | F-Series F-150, F-250 & F-350 | 7.3L IDI |
Search By Keyword
Filter Products