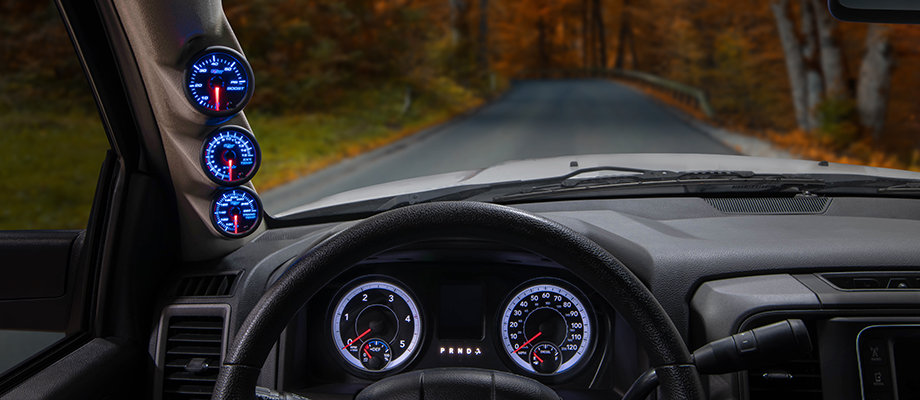 2010 - 2018

Dodge Ram Cummins
Look no further than GlowShift when it comes to gauges, pods and more that will help you get peak performance out of any 2010-2018 Dodge Ram Cummins 2500/3500. When you search through our inventory you'll find a wide range of exceptionally crafted aftermarket products designed specifically for the 6.7L Cummins. Choose from over 20 types of gauges built to monitor a variety of engine applications. Each gauge comes with a customizable look depending on which GlowShift Gauge Series you go with. Experience features such as a black or white gauge face, clear or tinted magnified lens, ultra-bright LED analog and digital displays with multiple color options, and much more. Also available for the 6.7L Cummins is a taupe triple pillar gauge pod, which is factory color matched and made to completely replace the 10-18 Dodge Ram's stock A-pillar and grab handle. This pillar pod holds (3) gauges for easy, quick-glance readings while you're on the road. You can purchase gauges and pods individually, or you can create fully custom gauge packages which feature a combination of both. Accessories such as wiring kits and adapters are also available that will help to make the installation process even easier. Outfit your 6.7L Cummins with GlowShift gauges and pods and see how they transform your Dodge Ram's cabin with ultra-bright LED lighting displays that will provide readings on important engine systems with pinpoint accuracy.
Any GlowShift Gauge Series will look great when added along with your gauges to a Dodge Ram Cummins 2500 & 3500. As you decide on which works best for you, we'd like to point you in the direction of the Black 7 Color Series which is our personal pick. This series comes packed with a wide range of features including a black gauge face, magnified clear lens and ultra-bright selectable 7 color LED through dial lighting. The Black 7 Color Gauge Series comes equipped with the 7 LED solid color modes Blue, Green, Red, Teal, Yellow, Purple and White. The black gauge face matches the black background of the gauges on the factory dash, with the option of also matching the LED lighting. Black 7 Color Series gauges can also be matched to the interior color scheme of many Cummins models. 2 Color Cycle Modes are also available that navigate all solid color options, and a Color Memory feature will recall the last color setting when your gauge is turned back on.
Cummins Custom Gauge Packages
| | | |
| --- | --- | --- |
| Choose between the Black, White or Tinted 7 Color Gauge Series, (3) GlowShift gauges, and also receive a taupe triple pillar pod that replaces the stock A-pillar and grab handle. | Select a Double Vision™ Gauge Series with both digital and analog displays, (3) gauges, and also receive a taupe triple pillar pod that replaces the stock A-pillar and grab handle. | Choose between the Black or White Elite 10 Color Gauge Series, (3) GlowShift gauges, and also receive a taupe triple pillar pod that replaces the stock A-pillar and grab handle. |
6.7L Cummins Boost Gauge
| | |
| --- | --- |
| | The 6.7L Cummins 60 PSI Boost Gauge gives you the ability to easily monitor your 10-18 Ram's boost levels from 0 to 60 PSI and is designed for any Dodge Ram running higher boost pressure to make sure that overboosting doesn't occur which could cause problems for the turbocharger. This turbo boost gauge also ensures your turbo is performing at optimum levels and creating the type of power that it should. A boost gauge is a great fit for monitoring boost levels in your Cummins 2500 & 3500 when you're getting more boost out of your stock or upgraded turbo. This gauge is ideal for newer or modified Dodge Rams running boost levels in the approximate area of 45 PSI to 55 PSI, where your truck's output matches the gauge's boost pressure level capacity. Whether your Cummins is strictly recreational or you're using it for work applications like hauling heavy loads, this Ram boost gauge will alert you in the event your turbo isn't creating boost levels that are within the expected range. This gauge also comes with parts required for the install, including 9' of Boost Line and Compression Fittings. |
---
Cummins Boost Adapters

Cummins Boost Adapters

6.7L Cummins Boost Bolt Thread Adapter

GlowShift's Boost Bolt Thread Adapter is specifically designed to thread directly into your 2010-2018 Dodge Cummins 6.7L Diesel's intake horn, allowing you to easily install the barbed fitting included with your GlowShift 60 PSI boost gauge. The installation process is extremely easy with no drilling or tapping necessary.
Cummins EGT Gauge
| | |
| --- | --- |
| | The 1500° F Pyrometer EGT Gauge is essential for anyone driving a 2010-2018 Dodge Ram 2500 or 3500 6.7L Cummins who is pushing for maximum output out of their diesel engine. This gauge takes readings from 0 to 1500° Fahrenheit, ensuring that your exhaust temperature is not running too hot which could result in engine failure. An exhaust gas temperature gauge is considered one of the most important Cummins turbo diesel gauges. Readings up to 1500° apply to most Ram trucks, with this gauge typically being enough to cover the range regardless of the diesel engine size. The Cummins 1500 EGT gauge is also designed for Ram trucks that are traveling longer distances and towing heavy loads, two factors which can at times put more stress on the engine and generate higher exhaust gas temperatures. This Ram EGT gauge comes with everything required for installation, including a ⅛-27 NPT Type K Thermocouple EGT Probe with a Waterproof Connector that features 3' of steel braided cable and ⅛-27 NPT threads. The EGT probe and power connections are made utilizing seamless Plug and Play connectivity to make the process even easier. This gauge comes with a 2' power harness and 6' steel braided sensor harness with waterproof connector that plugs into the probe's connector. |
Cummins Transmission Temp Gauge
| | |
| --- | --- |
| | A Transmission Temperature Gauge is essential for any 6.7L Cummins with a 68RFE transmission, especially Ram 2500s & 3500s that are towing heavy loads. This gauge allows you to closely monitor the temperature of your transmission, ensuring that it does not overheat causing significant damage. The included electronic transmission temperature sensor with ⅛-27 NPT male threads requires a T-Fitting Adapter for installation. This Cummins adapter is available separately and connects directly to the cooler feed line for precise readings. Once the adapter and sensor have been installed, this trans temp gauge will take readings from 80° to 260° Fahrenheit. One of the major factors in reducing the life of a Ram's transmission is overheating, and one of the main reasons a truck transmission overheats is due to the strain of towing larger and heavier amounts of cargo. A Cummins trans temp gauge will monitor transmission temperatures during a larger haul and alert you in the event of temperature spikes. Another issue is older transmission fluid. Older transmission fluid will be less effective at performing its primary functions, one of the most important of which is keeping the system cool. The typical range for transmission fluid temperature is between 175° and 225°, and keeping within that average range is vital to your engine and Cummins transmission's long term performance. |
---
Cummins Trans Adapters

Cummins Trans Adapters

5.9 Cummins Transmission Test Port Extender

GlowShift's Dodge Ram Cummins Transmission Line T-Fitting Adapter allows you to easily install your 1/8-27 NPT transmission temperature sensor directly to the 1/2" transmission cooler feed line for extremely accurate readings. This adapter is required on the 2010-2018 6.7L Cummins with 68RFE transmission, and is the only way to install a Transmission Temperature Gauge for these model years.
Cummins Fuel Pressure Gauge
| | |
| --- | --- |
| | The 30 PSI Fuel Pressure Gauge monitors lower fuel pressure levels on any 2010-2018 6.7L Cummins, displaying readings from 0 to 30 PSI. This diesel fuel pressure gauge makes sure your Dodge's fuel system is running at its peak. It also ensures that the pressure is not too low which could result in damage to your fuel pump and injectors, along with causing an overall loss of horsepower. Symptoms of low fuel pressure include rough idling, poor performance and decreased fuel economy. As part of this gauge kit you'll receive a 1/8-27 NPT electronic fuel pressure sensor. This sensor can be installed directly into your fuel system with our Fuel Pressure Big Line Kit, which is available separately. This kit features a ⅛-27 NPT port and replaces the restrictive line from the fuel filter housing, allowing you to install the sensor and take extremely accurate gauge readings. GlowShift's ⅛-27 NPT Fuel Pressure Snubber Valve is also available separately which regulates, normalizes and eliminates fuel pressure spikes present throughout the fuel system during the initial ignition and startup of a diesel engine. If the 9' pressure sensor harness that comes with the gauge is not long enough for your application, GlowShift offers an Extended Length Pressure Gauge Sensor Harness. |
---
Cummins Fuel Pressure Adapters

Cummins Fuel Pressure Adapters

6.7L Cummins Fuel Pressure Big Line Kit

GlowShift's Big Line Kit is available for the 2010-2018 Dodge Ram 2500/3500 with a 6.7L Cummins. This kit features a ⅜" T-Fitting with ⅛-27 NPT Port and upgrades the restrictive line, enabling you to easily install any fuel pressure sensor. The 6.7L Cummins Big Line Kit will replace the restrictive line from the fuel filter housing to the injection pump in order to let your diesel truck's fuel system flow the way it was intended. This kit is required because the 10-18 Dodge Ram has hard lines and no open ports.
Dodge Ram Cummins Gauge Pods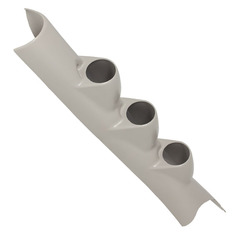 Factory color matched Taupe Triple Pillar Pod that holds (3) gauges and is a complete replacement of the 10-18 Dodge Ram 6.7L Cummins stock A-pillar and grab handle.
Fitment Details
| Year | Make | Model | Engine |
| --- | --- | --- | --- |
| 2010 | Dodge | Ram, 2500, 3500 | 24 Valve 6.7L Cummins |
| 2011 | Dodge | Ram, 2500, 3500 | 24 Valve 6.7L Cummins |
| 2012 | Dodge | Ram, 2500, 3500 | 24 Valve 6.7L Cummins |
| 2013 | Dodge | Ram, 2500, 3500 | 24 Valve 6.7L Cummins |
| 2014 | Dodge | Ram, 2500, 3500 | 24 Valve 6.7L Cummins |
| 2015 | Dodge | Ram, 2500, 3500 | 24 Valve 6.7L Cummins |
| 2016 | Dodge | Ram, 2500, 3500 | 24 Valve 6.7L Cummins |
| 2017 | Dodge | Ram, 2500, 3500 | 24 Valve 6.7L Cummins |
| 2018 | Dodge | Ram, 2500, 3500 | 24 Valve 6.7L Cummins |