1994 - 1997

Dodge Ram Cummins
Pull over and park your 2nd Gen Cummins here when you're looking for expertly crafted gauges and pods that help you monitor for maximum performance out of your 12v Cummins diesel engine. Choose from gauges created for a wide range of engine applications, providing incredibly accurate readings with features including ultra-bright digital and analog LED displays. Extremely durable, high-quality 5.9L Cummins single, dual and triple pillar gauge pods are available in black and custom-fit to match your Dodge Ram. You can choose from a variety of accessories including sensors, adapters and wiring kits made specifically for the 94-97 Ram which help with the installation process. Select items individually or you can create fully customized gauge packages which combine your preferred choice of gauges, pods and accessories. With all of these options and this large inventory of 12v 5.9L Cummins products, your Dodge Ram will be ready for anything you're looking to take on.
When you're deciding on a Gauge Series to go with your GlowShift Gauges, we recommend the Black 7 Color Gauge Series for the 1994-1997 Dodge Ram 12v 5.9L Cummins 2500 & 3500. You'll experience innovative features including a black gauge face, magnified clear lens and ultra-bright selectable 7 color LED through dial lighting. If you build a custom gauge package you'll also have a choice between dual or triple pillar pods. The Black 7 Color Gauge Series features the 7 LED solid color modes Blue, Green, Red, Teal, Yellow, Purple and White.
Cummins Custom Gauge Packages
| | | |
| --- | --- | --- |
| Choose between the Black, White or Tinted 7 Color Gauge Series, featuring 7 selectable solid color modes, a clear or tinted lens, and 2 Color Cycle Modes. | With the MaxTow Double Vision™ Gauge Series you'll experience both analog and digital readings on an ultra-bright LED display in several color combinations. | Highlights of the 10 Color Digital Series include a flat black gauge face and a low profile tinted lens with 10 Solid Color Settings and a digital numeric readout. |
5.9L Cummins Boost Gauge
| | |
| --- | --- |
| | The 5.9L Cummins 35 PSI Boost Gauge was made for any 94-97 Cummins running a stock turbo, giving you the ability to easily monitor your Dodge Ram's boost levels from 0 to 35 PSI through one gauge. Stock levels run at about 15-20 PSI, but with a tuned Cummins diesel engine those boost pressure levels typically run from 30-35 PSI, which is why the 35 PSI boost gauge is an ideal fit. However, for additional aftermarket turbo and modifications a 60 PSI boost gauge is strongly recommended since it gives drivers more flexibility in the future. GlowShift's 5.9L Cummins 60 PSI Boost Gauge is designed for any Dodge Ram running high boost pressure. This turbo boost gauge will ensure your turbo is performing at optimum levels and that it does not overboost which could cause critical engine damage. Both of these mechanical gauges also come with everything required for the install, including 9' of Boost Line and 1/8-27 NPT Compression Fittings which give you access to extremely accurate readings. Also included is a 2' power wire attached to the back of the gauge, a dimmer wire that dims the gauge 30% for easier nighttime viewing, a gauge visor, mounting hardware and installation instructions. Complete with all of the color options and lighting effects that come standard with these gauges, the interior of your 94-97 Ram will be upgraded and enhanced by the addition of either gauge. |
2nd Gen Cummins EGT Gauge
| | |
| --- | --- |
| | The 1500° F Pyrometer EGT Gauge is essential for anyone driving a 1994-1997 Dodge Ram 12v 5.9L Cummins 2500 & 3500 who is pushing for maximum output from their diesel engine. This gauge will ensure that your exhaust temperature is not running too hot which could result in turbo failure. With unique features such as simple Plug and Play connectors for the power and sensor harnesses, this exhaust gas temperature gauge can be activated in no time and will effectively take readings from 0 to 1500° Fahrenheit. The quick and easy installation process for the included EGT Probe involves drilling and tapping the exhaust manifold to 1/8-27 NPT and then threading and tightening the included EGT Probe. This method will provide you with extremely accurate temperature readings. The Cummins 1500 EGT gauge is also designed for Ram trucks that are traveling longer distances and towing heavy loads, two factors which can at times put more stress on the engine and generate higher exhaust gas temperatures. This Ram EGT gauge comes with everything required for installation, including the 1/8-27 NPT Type K Thermocouple EGT Probe with a Waterproof Connector that features 3' of steel braided cable and 1/8-27 NPT threads. The EGT probe and power connections are made utilizing seamless Plug and Play connectivity to make the process even easier. GlowShift's 5.9L Cummins EGT gauge also comes with a 2' power harness and 6' steel braided sensor harness with waterproof connector that plugs into the probe's connector. |
Cummins Transmission Temp Gauge
| | |
| --- | --- |
| | A Transmission Temperature Gauge is essential for any 5.9L Cummins with an automatic 47RH or 47RE transmission, especially Rams that are towing heavy loads. This gauge allows you to closely monitor the temperature of your transmission, ensuring that it does not overheat causing significant damage. Once you connect the included electronic transmission temperature sensor with 1/8-27 NPT male threads, this trans temp gauge will effectively take readings from 80° to 260° Fahrenheit. The sensor easily installs to your transmission test port or in place of the stock sensor. One of the major factors in reducing the life of a Ram's transmission is overheating, and one of the main reasons a truck transmission overheats is due to the strain of towing larger and heavier amounts of cargo. A Cummins trans temp gauge will monitor transmission temperatures during a larger haul and alert you in the event of temperature spikes. Another issue is older transmission fluid. Older transmission fluid will be less effective at performing its primary functions, one of the most important of which is keeping the system cool. The typical range for transmission fluid temperature is between 175° and 225°, and keeping within that average range is vital to your engine and Cummins transmission's long term performance. By having a trans temp gauge, you'll be kept one step ahead of any possible issues involving overheating that could potentially seize your transmission. |
---
Cummins Transmission Temp Adapter

Cummins Transmission Temp Adapter

Transmission Test Port Extender

GlowShift's 1/8-27 NPT Transmission Test Port Extender is required when installing any of our transmission temperature gauges to 5.9L Cummins 47RH and 47RE transmissions. If this extender is not installed, your 94-97 Ram's internal transmission parts will break the sensor which could result in major damage. This 1/8-27 NPT adapter will extend the transmission test port, allowing you to easily install your transmission temperature gauge's temperature sensor.
Cummins Fuel Pressure Gauge
| | |
| --- | --- |
| | The 30 PSI Fuel Pressure Gauge monitors lower fuel pressure levels on any 1994-1997 5.9L Cummins, displaying readings from 0 to 30 PSI. This diesel fuel pressure gauge makes sure your Dodge's fuel system is running at its peak, and also ensures the pressure is not too low which could result in damage to your fuel pump and injectors, along with causing an overall loss of horsepower. This gauge also comes with a 1/8-27 NPT electronic fuel pressure sensor which enables you to take extremely accurate gauge readings. Please note that a snubber valve is required when installing a 30 PSI Fuel Pressure Gauge into a 94-97 Dodge Ram Cummins. The snubber valve regulates, normalizes and eliminates fuel pressure spikes that are present during the initial ignition and startup on the Dodge Cummins diesel engine through the use of a regulator. High pressure fuel system spikes during startup are harmful and may cause early and unexpected failure of electronic fuel pressure sensors and/or sending units for fuel pressure gauges. Having a snubber valve in place will ensure that any potential spikes in your Ram's fuel pressure levels at startup will be avoided. |
---
Cummins Fuel Pressure Adapters

Cummins Fuel Pressure Adapters

12V Banjo/Snubber Valve Combo

This adapter is available for the 12v 5.9L Cummins, allowing you to easily install your fuel pressure sensor directly to the fuel filter housing with the protection of the snubber valve. Benefits of this all-in-one design include less fittings and less chances of leaks, along with better clearance of the frame rails.
Dodge Ram Cummins Gauge Pods
| | | |
| --- | --- | --- |
| Black triple pillar pod made of durable ABS plastic that holds (3) 2-1/16" (52mm) gauges and is available as an overlay that installs to the 94-97 Cummins factory A-pillar. | Black full size dual pillar pod made of durable ABS plastic that holds (2) 2-1/16" (52mm) gauges and is available as an overlay that installs to the 94-97 Cummins factory A-pillar. | Black single pillar pod made of durable ABS plastic that holds (1) 2-⅜" (60mm) gauge and is available as an overlay that installs to the 94-97 Cummins factory A-pillar. |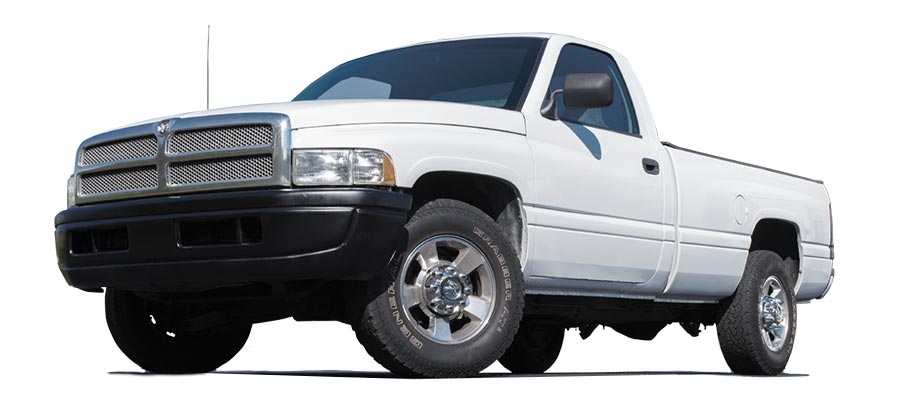 Fitment Details
| Year | Make | Model | Engine |
| --- | --- | --- | --- |
| 1994 | Dodge | Ram, 2500, 3500 | 12 Valve Cummins |
| 1995 | Dodge | Ram, 2500, 3500 | 12 Valve Cummins |
| 1996 | Dodge | Ram, 2500, 3500 | 12 Valve Cummins |
| 1997 | Dodge | Ram, 2500, 3500 | 12 Valve Cummins |