10 Color Digital Wideband Air/Fuel Ratio Gauge
3

product reviews
|
Write A Review
---
GlowShift's 10 Color Digital Series Wideband Air/Fuel Gauge reads and displays your vehicle's air to fuel ratio from 10.00 to 20.00 AFR down to one decimal place. These extremely accurate readings are obtained by the included Bosch LSU 4.9 Oxygen Sensor that installs to the vehicle's exhaust using the included weld-in bung. This wideband air/fuel gauge utilizes a 12 volt wideband controller that features a 0 to 5 volt digital output, allowing you to connect it to virtually any data logging or engine management system. This wideband air/fuel ratio gauge includes everything mentioned above as well as a 13' sensor harness, 6' controller to gauge harness, 5' power harness, gauge visor and mounting hardware for a complete installation.
Each 2-1/16" (52mm) 10 Color Digital Gauge features a flat gauge face with a digital numerical readout for quick glance gauge readings. The digital gauge offers 10 different color options that include blue, green, red, yellow, white, teal, purple, pink, amber and orange. After the color orange, there are 2 additional modes that include the 10 color cycle and 10 color fade mode that utilize all of the featured colors. At startup, a self-calibration mode ensures that the gauge is performing optimally. Each gauge features an ultra-thin design with a depth of 1.32" and an LED display that measures at 1.05" x 0.43". For an easier viewing experience while driving at night, connect the orange wire to the headlight switch source to allow the gauge to dim 50% when the headlights are on. GlowShift stands behind each product by including installation instructions, a one year limited warranty and free lifetime technical support.
Rich: 10.00 ~ 12.99 AFR | Optimal: 13.00 ~ 17.99 AFR | Lean: 18.00 ~ 20.00 AFR
Note: The included Bosch LSU 4.9 Oxygen Sensor includes Bosch's 30 day manufacturer's warranty. GlowShift does not warranty this sensor after that 30 day time frame.
2 1/16" (52mm) Black Gauge Face with a Low Profile Tinted Lens
Air/Fuel Ratio Readings from 10.00 to 20.00 AFR
10 Color LED Options Include Blue, Green, Red, Yellow, White, Teal, Purple, Pink, Amber & Orange
10 Color LED Cycle & Fade Mode
Bosch LSU 4.9 Oxygen Sensor
Digital 12 Volt Wideband Controller with Data Logging Output
Weld-In Sensor Bung
13' Sensor Harness
6' Controller to Gauge Harness
5' Power Harness
Self-Calibration at Startup
Dimmer Wire Allows the Gauge to Dim 50%
Gauge Visor
Mounting Hardware
Installation Instructions
Free Lifetime Technical Support
One Year Limited Warranty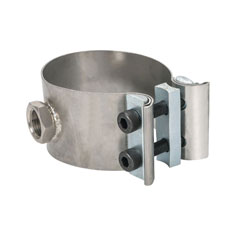 Clamp-On Oxygen Sensor Bung Adapter:
Allows Easy Installation of Oxygen Sensor to Exhaust Pipe - No Welding Required
Clamp Sizes: 1-3/4"-2" | 2-1/4"-2-1/2" | 2-3/4"-3" | 3-1/4"-3-1/2"
Adapter Features M18 1.5 Thread for Oxygen Sensor
Includes Exhaust Gasket & Hardware
---
Gauge Series
10 Color Digital Series
Gauge Type
Wideband Air/Fuel Ratio
Range of Reading
10.00 - 20.00 AFR
Backlighting Color
10 Colors
pdf
http://glowshift.com/instructions/10-Color-Digital-Series/GS-TCD02W-Wideband-Air-Fuel-Ratio-Gauge.pdf
GoogleTitle
GlowShift Wideband Air Fuel Ratio Digital Gauge Kit - o2 Sensor - 52mm | 2-1/16" - 10 Color Digital - Smoked Lens - Multi-Color LED Display
The comes with an installation guide which is available online and included with your order. You can also visit our library of installation videos which include complete step-by-step tutorials and useful tips on how to install a wide range of GlowShift products.
| | |
| --- | --- |
| Download and Print the PDF | View Our Help Center |
GlowShift | 10 Color Digital Gauge Series
01:44
GlowShift has revived digital gauges with the introduction of the 10 Color Digital Gauge Series! GlowShift's 10 Color Digital Gauge Series offers the readings you need with the customization you want. The 10 Color Digital Series is available in a variety of gauge types, including Boost, Fuel Pressure, Pyrometer EGT, Transmission Temperature, and more. The 10 Color Digital Gauge features a flat gauge face with an ultra-thin design that produces a digital numerical readout that allows for quick glance gauge readings. Monitor your vehicle's most important inner workings with 1.05" x 0.43" LED screen that displays large, bold readings that can easily be viewed while driving. Hyundai Motor America, Lightner Motorsports, and Gurnade Inc. teamed up to create a Veloster Concept that would utilize the Veloster's strengths and add modifications that would further enhance its aggressive stance with a race-ready feel. Some of the modifications they used to leverage that vision are Cobra Nogaro racing seats, the Takata racing harnesses, GlowShift Gauges, a custom rear spoiler, custom fender flares and grille, LEDGlow underbody lighting. The Veloster was unvailed at the 2016 SEMA show in Las Vegas and has been making it's way around the show circuit stopping at GlowShift headquarters on it's journey. For more information please visit: http://www.glowshiftdirect.com/10-color-digital-gauge-series.aspx?sitelink=Center&utm_campaign=10%20Color%20Digital%20Product%20Video&utm_medium=Social&utm_source=YouTube&utm_content=10%20Color%20Digital%20Product%20Video%Youtube%20description%20link&utm_term= Facebook: https://www.facebook.com/GlowShift/ Twitter: https://twitter.com/GlowShift Instagram: https://www.instagram.com/glowshift/
GlowShift | 10 Color Digital Gauge Series
GlowShift has revived digital gauges with the introduction of the 10 Color Digital Gauge Series! GlowShift's 10 Color Digital Gauge Series offers the readings you need with the customization you want. The 10 Color Digital Series is available in a variety of gauge types, including Boost, Fuel Pressure, Pyrometer EGT, Transmission Temperature, and more. The 10 Color Digital Gauge features a flat gauge face with an ultra-thin design that produces a digital numerical readout that allows for quick glance gauge readings. Monitor your vehicle's most important inner workings with 1.05" x 0.43" LED screen that displays large, bold readings that can easily be viewed while driving. Hyundai Motor America, Lightner Motorsports, and Gurnade Inc. teamed up to create a Veloster Concept that would utilize the Veloster's strengths and add modifications that would further enhance its aggressive stance with a race-ready feel. Some of the modifications they used to leverage that vision are Cobra Nogaro racing seats, the Takata racing harnesses, GlowShift Gauges, a custom rear spoiler, custom fender flares and grille, LEDGlow underbody lighting. The Veloster was unvailed at the 2016 SEMA show in Las Vegas and has been making it's way around the show circuit stopping at GlowShift headquarters on it's journey. For more information please visit: http://www.glowshiftdirect.com/10-color-digital-gauge-series.aspx?sitelink=Center&utm_campaign=10%20Color%20Digital%20Product%20Video&utm_medium=Social&utm_source=YouTube&utm_content=10%20Color%20Digital%20Product%20Video%Youtube%20description%20link&utm_term= Facebook: https://www.facebook.com/GlowShift/ Twitter: https://twitter.com/GlowShift Instagram: https://www.instagram.com/glowshift/
Works well

Nice set up, easy to wire up, had AEM brand new worked for 2 days and would not warranty it. Decided to go with glow shift and no issues. Can change colors on gauge to match your cluster.

Posted by Joe on

AFR gauge

Nice that it changes colors to match dash cluster and radio. Very easy to install and nice quality.

Posted by Brandon on

Good

Good quality and product.

Posted by Stacey Singleton on