GlowShift's Elite 10 Color Series Boost/Vacuum Gauge offers ultra-high performance features, and is essential for any supercharged or turbocharged vehicle. This boost gauge reads compression levels from -30 to 0 inHG and boost pressure from 0 to 30 PSI ensuring your vehicle does not over boost which could cause serious engine damage. GlowShift's Elite Boost Pressure Gauge is electronically driven and includes an electronic boost pressure sensor that reads and displays your vehicle's vacuum compression and boost pressure with unmatched accuracy.
This 2 1/16" (52mm) high performance boost gauge outperforms the competition with features that include a peak recall function, programmable high and low warning functions, stepper motor technology, 10 color through dial LED lighting, as well as a self-calibration mode at startup, an illuminated red needle, and a low profile magnified tinted lens. The adjustable high and low warning functions will alert you visually with an optional audible tone, ensuring your vehicle's boost pressure is not running too high or too low, and the peak recall feature gives you instant vehicle feedback. The included stepper motor technology allows for all needle movement to be incredibly smooth and all gauge readings to be extremely accurate. GlowShift's 10 color through dial lighting lets you match your factory gauges or add a custom look to your vehicle's interior, and with the color recall feature, you don't have to worry about resetting the gauge to your preferred color every time you turn on your vehicle. This boost gauge will also dim 30% when connected to your factory headlight switch, making it easy to read while driving at night.
GlowShift's Elite 10 Color Series Boost/Vacuum Gauge's electronic pressure sensor is installed with the included t-fitting, allowing you to splice into any vacuum line. The included sensor and power wires are completely plug and play, and securely snap into the back of the gauge with the featured modular connectors. This boost gauge is powered by 12 volts and allows you to power an additional three Elite 10 gauges with the daisy chain feature. GlowShift includes free lifetime technical support and a one year limited warranty with every Elite 10 Color Series Gauge.
2 1/16" (52mm) Black Face Gauge with a Magnified Tinted Lens
Boost Reading from 0 to 30 PSI
Vacuum and Compression Levels Between -30 to 0 inHG
Electronic Boost Pressure Sensor
Peak Recall Ability
Audible/Visual Programmable High and Low Warnings
10 Color LED Through Dial Lighting with Color Recall Ability
10 Solid Color Settings and Two Color Cycle Modes
Dimmer Wire Allows the Gauge to Dim 30%
6' Boost Pressure Sensor Wire
6' of Vacuum Hose and T-Fitting
Gauge Depth Measures 7/8"
Dashboard Pod
Gauge Visor
Mounting Hardware
Installation Instructions
Free Lifetime Technical Support
One Year Limited Warranty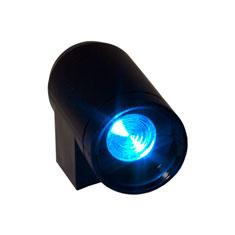 Add-On External Warning Light
Alerts the Driver Visually with Blue LED When Hitting Set High or Low Warnings
Plugs Directly into the Back of Any Elite 10 Color Gauge
---
Gauge Series
Elite 10 Color Series
Range of Reading
30 inHG - 30 PSI
Backlighting Color
10 Colors
pdf
http://www.glowshift.com/instructions/Elite-Series/GS-ET01-Boost-Vacuum-Gauge.pdf
GoogleTitle
GlowShift 30 PSI Turbo Boost Vacuum Gauge Kit - Electronic Sensor - 52mm | 2-1/16" - Elite 10 Color - Black Dial w/ Smoked Lens - Set Warning Alerts
The comes with an installation guide which is available online and included with your order. You can also visit our library of installation videos which include complete step-by-step tutorials and useful tips on how to install a wide range of GlowShift products.
| | |
| --- | --- |
| Download and Print the PDF | View Our Help Center |
GlowShift's Elite 10 Color Gauge Series
01:02
GlowShift's Elite 10 Color Gauge Series is one of the most innovative gauge series on the market today. Each gauge is packed with a collection of features including self calibration, multiple color modes, and a tinted gauge face. Each Elite 10 Color Gauge is driven by a microprocessor controlled stepper motor which will ensure all needle movement is extremely smooth and all gauge readings are incredibly accurate. When powering your gauge on and off, you will be alerted with a startup or shutdown sequence to guarantee your gauge is functioning properly. The Elite 10 Color Gauge Series also features a peak recall function which will display your last peak value if you wish to monitor your levels. For More Information Please Visit: http://www.glowshiftdirect.com/Elite-10-color-gauges.aspx
GlowShift's Elite 10 Color Gauge Series
GlowShift's Elite 10 Color Gauge Series is one of the most innovative gauge series on the market today. Each gauge is packed with a collection of features including self calibration, multiple color modes, and a tinted gauge face. Each Elite 10 Color Gauge is driven by a microprocessor controlled stepper motor which will ensure all needle movement is extremely smooth and all gauge readings are incredibly accurate. When powering your gauge on and off, you will be alerted with a startup or shutdown sequence to guarantee your gauge is functioning properly. The Elite 10 Color Gauge Series also features a peak recall function which will display your last peak value if you wish to monitor your levels. For More Information Please Visit: http://www.glowshiftdirect.com/Elite-10-color-gauges.aspx
Great product for a Great Price

I love my new gauges. The price couldn't be beat and the quality is awesome. The only thing I would have liked to see was more options for the Power harness length and power daisy chain harness length. I did purchase the optional 3' length daisy chain harness and it seemed to be JUST long enough. I do love having the daisy chain as an option over running multiple sets of power/accessory/ground/dimmer wires. That definitely made life easier and the install cleaner. I installed the 10 color Elite series Black 30PSI Boost/Vacuum, 0-100PSI Oil Pressure, 0-100 fuel pressure and the 10 Color Digital Dual Wideband AFR gauges.

Posted by Stephan Manley on

Great Gauges

First time ever buying gauges and I love thses things ...best looking gauges on the market and work like a charm. Love them

Posted by Sean on