GlowShift's Tinted Series Wideband Air/Fuel Ratio Gauge is perfect for tuning any performance vehicle. Installing a wideband air/fuel ratio gauge allows you to closely monitor and tune your vehicle's air to fuel ratio giving you multiple benefits that include reduced emissions, higher fuel economy, and maximized power and engine performance by allowing you to carefully map our your vehicle's air to fuel ratios throughout the range of RPM and manifold pressure which results in maximized power output.
GlowShift's Tinted Gauge Series has been revamped from our previous gauge model in both performance and style. This Tinted Series Wideband Air/Fuel Ratio Gauge features an easy to read blue digital numeric readout that will display your vehicle's air/fuel ratio from 10.0 to 20.0 AFR down to one decimal place, as well as having a three color LED ring that quickly indicates rich, lean, or optimal values. This 2 1/16" (52mm) gauge face is housed in two tone gun metal gauge body with a brushed aluminum trim ring, and a low profile magnified tinted lens. These incredibly accurate readings are attained by utilizing the included Bosch 4.9 LSU wideband oxygen sensor that is installed to your vehicle's exhaust using the included weld-in bung, and the included 13' sensor wire that easily connects to the back of the gauge with modular connectors. Each Tinted Series Gauge features modular connections for plug and play connectivity, as well as all the necessary mounting hardware, installation instructions, free lifetime technical support, and a one year limited warranty.
Note: The included Bosch 4.9 LSU Wideband Oxygen Sensor includes Bosch's 30 day manufacturer's warranty. GlowShift does not warranty this oxygen sensor after that 30 day time frame.
Note: This Wideband Air/Fuel Gauge does not have data logging output.
2 1/16" (52mm) Black Gauge Face with Magnified, Tinted Lens
Blue Digital Numeric Display Reads from 10.0 to 20.0 AFR and is Accurate to One Decimal Place
3 Color LED Ring Indicates Lean, Rich, and Optimal Air/Fuel Mixtures
Digital 12 Volt Wideband Controller Unit
Bosch LSU 4.9 Wideband Oxygen Sensor
13' Sensor Wire Harness
6' Control Unit to Gauge Wire Harness
5' Power Wire Harness
Weld-In Sensor Bung
Gauge Visor
Mounting and Installation Hardware
Free Lifetime Technical Support
One Year Limited Warranty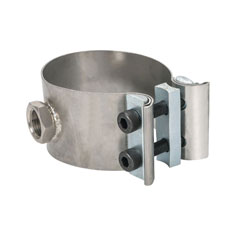 Clamp-On Oxygen Sensor Bung Adapter:
Allows Easy Installation of Oxygen Sensor to Exhaust Pipe - No Welding Required
Clamp Sizes: 1-3/4"-2" | 2-1/4"-2-1/2" | 2-3/4"-3" | 3-1/4"-3-1/2"
Adapter Features M18 1.5 Thread for Oxygen Sensor
Includes Exhaust Gasket & Hardware
---
Gauge Series
Tinted Series
Gauge Type
Wideband Air/Fuel Ratio
Range of Reading
10.0 - 20.0 AFR
pdf
http://www.glowshift.com/instructions/2015-Tinted-Series/GS-T02WB-Wideband-AFR-DATA.pdf
GoogleTitle
GlowShift Digital Wideband Air Fuel Ratio Gauge Kit - o2 Sensor - 52mm - Tinted Series - Black Dial w/ Smoked Lens - Blue Digital Readout
The comes with an installation guide which is available online and included with your order. You can also visit our library of installation videos which include complete step-by-step tutorials and useful tips on how to install a wide range of GlowShift products.
| | |
| --- | --- |
| Download and Print the PDF | View Our Help Center |
GlowShift Tinted Gauge Series
01:06
GlowShift's 2015 Tinted Gauge Series has been revamped from our previous gauge model in both performance and style. This Tinted Series Gauge is housed in a two tone gun metal gauge body with a brushed aluminum trim ring, and a low profile magnified tinted lens. Each 2 1/16" (52mm) gauge face features an illuminated red needle with white LED backlighting. Connecting this gauge to your factory headlight switch allows it to dim 30% for easier monitoring during the nighttime. Each Tinted Series Gauges includes all necessary mounting hardware, installation instructions, free lifetime technical support, and a one year limited warranty. For More Information Please Visit: www.glowshiftdirect.com/Tinted-Gauge-Series.aspx?sitelink=youtube
GlowShift Tinted Gauge Series
GlowShift's 2015 Tinted Gauge Series has been revamped from our previous gauge model in both performance and style. This Tinted Series Gauge is housed in a two tone gun metal gauge body with a brushed aluminum trim ring, and a low profile magnified tinted lens. Each 2 1/16" (52mm) gauge face features an illuminated red needle with white LED backlighting. Connecting this gauge to your factory headlight switch allows it to dim 30% for easier monitoring during the nighttime. Each Tinted Series Gauges includes all necessary mounting hardware, installation instructions, free lifetime technical support, and a one year limited warranty. For More Information Please Visit: www.glowshiftdirect.com/Tinted-Gauge-Series.aspx?sitelink=youtube