MaxTow's White Face Double Vision™ Series 30,000 PSI Fuel Rail Pressure Gauge is compatible with the 2003-2018 Dodge Ram with 5.9L or 6.7L Cummins engine, as well as the 2002-2018 Chevrolet and GM with 6.6L Duramax engine. This diesel fuel rail pressure gauge reads your truck's high fuel pressure levels from 0 – 30,000 PSI directly from the common rail, allowing you to monitor your Cummins or Duramax engine with unrivaled accuracy, while protecting against damage to your fuel pump, injectors and a loss of overall horsepower.
MaxTow's Double Vision Gauge Series features a green LED display and an illuminated red needle, which gives you the classic look of an analog gauge, as well as an easy to read digital numerical readout. The Double Vision Gauge Series provides you with multiple options and added convenience when reading the output of your diesel truck gauge! This 2 1/16" (52mm) rail pressure gauge outperforms the competition by featuring stepper motor technology which allows for exceptionally smooth needle movement and extremely precise gauge readings. No matter how much your truck is shaking or pulling, the needle stays unaffected and delivers the accurate results you're looking for in a reliable gauge. The three daytime brightness settings (d1, d2, d3) allow you to easily view your gauge readings without being affected by the sunlight, while the three nighttime brightness settings (n1,n2,n3) allow up to a 50% dimmer glow for easier viewing at night! The included brightness recall function will remember the previous brightness setting you had on before powering the truck down, so you won't have to reset it every time you power your truck back on.
MaxTow's Rail Pressure Gauge features extended wire harnesses for both power (3') and sensor wire (9') connections, ensuring that you will have more than enough wire for a quick and easy installation. The 9' sensor harness connects directly to your truck's factory rail PSI sensor wire for extremely accurate readings directly from the source. All gauge mounting hardware and installation instructions come standard with every diesel rail pressure gauge purchased, as well as free lifetime technical support and a one year limited warranty. Get ready to hit the road and Tow to the Max™
Adding the Fuel Rail Pressure Gauge Wiring Pigtail Harness eliminates the need to splice into any factory wiring to receive rail pressure readings. This gauge harness installs directly to the rail pressure sensor for extremely accurate readings directly from the source. This rail pressure harness features a length of 6" with 9" sensor and ground lead wires.
Only Compatible With: 2003 Dodge with 5.9L Cummins Engine, 2004-2018 Dodge with 5.9L and 6.7L Cummins Engine, 2002-2018 Chevrolet and GM with 6.6L Duramax Engine.
2 1/16" (52mm) White Face Gauge with a Magnified Lens
Rail Pressure Reading from 0 to 30,000 PSI
Double Vision Display Feature with Analog and Digital Readings
Green LED Through Dial Lighting with a Red Illuminated Needle
Daytime Dimming Mode with 3 Customizable Brightness Settings
Nighttime Dimming Mode with 3 Customizable Brightness Settings
9' Sensor Wire Harness
3' Power Wire Harness
Gauge Depth Measures 1 5/16"
Gauge Visor
Mounting Hardware
Installation Instructions
Free Lifetime Technical Support
One Year Limited Warranty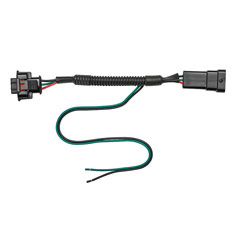 Rail Pressure Pigtail Harness
Quick & Easy Installation Without Having to Splice or Cut into Factory Wires
Connects Directly to Common Rail Pressure Sensor
Plug & Play
Fits 2003-2018 5.9L & 6.7L Cummins
Fits 2001-2018 Duramax LB7, LLY, LBZ, LLM & LML
---
Gauge Series
White & Green MaxTow Series
Gauge Type
Fuel Rail Pressure
Range of Reading
0 - 30,000 PSI
pdf
http://glowshift.com/instructions/MaxTow/MT-DV19.pdf
The comes with an installation guide which is available online and included with your order. You can also visit our library of installation videos which include complete step-by-step tutorials and useful tips on how to install a wide range of GlowShift products.
| | |
| --- | --- |
| Download and Print the PDF | View Our Help Center |
MaxTow High Performance Diesel Gauges
02:14
MaxTow's Double Vision™ Gauge Series features a green LED display, as well as an illuminated red needle, which will give you the classic look of an analog gauge while also giving you an easy to read green digital numerical readout, offering multiple options and added convenience when reading the output of your truck gauge. This truck gauge series also features innovative daytime and nighttime dimming modes with three customizable brightness settings (low, medium, high) for each mode. Get ready to hit the road and Tow to the Max™. For More Information Please Visit: http://www.MaxTow.com
MaxTow High Performance Diesel Gauges
MaxTow's Double Vision™ Gauge Series features a green LED display, as well as an illuminated red needle, which will give you the classic look of an analog gauge while also giving you an easy to read green digital numerical readout, offering multiple options and added convenience when reading the output of your truck gauge. This truck gauge series also features innovative daytime and nighttime dimming modes with three customizable brightness settings (low, medium, high) for each mode. Get ready to hit the road and Tow to the Max™. For More Information Please Visit: http://www.MaxTow.com