GlowShift's Black 7 Color Series Nitrous Pressure Gauge allows you to easily monitor your car's nitrous pressure levels from 0 to 1600 PSI. This NOS pressure gauge is electronically driven and features a 1/8-27 NPT pressure sensor that installs directly to the port on the nitrous tank for extremely accurate readings. Monitoring your nitrous pressure levels has several benefits including making sure that your system has the correct amount of pressure for your specific setup. Nitrous Oxide can be a cost-effective way of increasing your engine's horsepower, and among its uses a nitrous gauge is extremely popular for racing applications.
The Black 7 Color Series
GlowShift's Black 7 Color Gauge Series comes standard with a cutting-edge design that includes a black gauge face and low profile magnified clear lens. The illuminated red needle sweeps 270° and is powered by stepper motor technology, ensuring your needle movement is smooth and that your gauge readings are extremely accurate. The Black 7 Color Gauge Series comes with the ultra-bright LED solid color modes Blue, Green, Red, Teal, Yellow, Purple and White. Also featured is GlowShift's 7 Color through dial lighting system which allows you to select and change the color of your gauge lighting display by simply pressing the button located along the front of the gauge. Easily cycle through the 7 Solid Color Settings and 2 Color Cycle Modes that utilize all of these powerful LED colors. Through these options, you can adjust the color of the gauge to match your vehicle's factory dash lights, or you can customize the color and add your own personal touch and style to the inside of your car or truck. Plus with the Color Memory feature, you won't have to reset the color of your gauge every time you turn on your vehicle. Your gauge will reflect your most recent color setting the next time it is active. By connecting the orange wire of your gauge to the factory headlight switch, you'll be able to dim your gauge 30% when your headlights are turned on to reduce brightness while driving at night.
Nitrous Gauge Install
GlowShift's nitrous oxide gauge comes with everything required for the installation process. Included is a 1/8-27 NPT Nitrous Pressure Sensor along with a 9' Nitrous Pressure Sensor Harness and 2' power harness, both of which feature Plug and Play connectors so that they can be easily attached to the back of the gauge. All necessary mounting hardware and a gauge visor are also included, as well as installation instructions to walk you through the install step-by-step.
Benefits Of In-Vehicle Nitrous Pressure
Nitrous bottles are often mounted in out-of-the-way locations where they can't be seen, such as behind seats or in a car's trunk, with lines that run to the engine compartment. Using a direct connection from a nitrous bottle to the engine, often without any clear visibility by the driver, there is no way to accurately determine the amount of nitrous being used. However, by installing a NOS gauge and tapping into the connection between the nitrous bottle and engine compartment, a driver will have access to nitrous pressure readings from inside their vehicle. Additionally, by installing GlowShift's NOS Bottle Pressure Gauge you can mount the NOS pressure sensor directly into the bottle and, depending on the location, run the wires from the sensor to the gauge inside the car. This way you can monitor bottle pressure from the convenience of your A-pillar, dash, or other areas of your car's interior.
GlowShift Guarantee
GlowShift includes a one year limited warranty and lifetime tech support with every purchase.
What's Included:

2-1/16" (52mm) Gauge
1/8-27 NPT Nitrous Pressure Sensor
9' Nitrous Pressure Sensor Harness
2' Power Harness
Gauge Visor
Mounting Hardware
Installation Instructions
Free Lifetime Tech Support
One Year Limited Warranty

Gauge Features:

Nitrous Pressure Readings From 0 to 1600 PSI
Low Profile Magnified Clear Lens
Black Gauge Face
Illuminated Red Needle that Sweeps 270°
7 Color LED Through Dial Lighting
Stepper Motor Technology
7 Solid Color Settings: Blue, Green, Red, Teal, Yellow, Purple & White
2 Color Cycle Modes
Retains Last Color Setting
Dim Your Gauge 30% at Night
Plug & Play Connectors for Sensor and Power Harnesses
Gauge Depth Measures 1-5/16"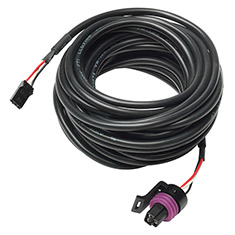 18ft Pressure Sensor Harness
Extends the Length of 9' Harness Included with Gauge to 18'
Long Enough to Reach Nitrous Bottles Located in the Trunk
Plug & Play
---
Gauge Series
Black 7 Color Series
Gauge Type
Nitrous Pressure
Range of Reading
0 - 1,600 PSI
Backlighting Color
7 Colors
pdf
http://glowshift.com/instructions/7-Color-Series/GS-714-Nitrous-Pressure-Gauge.pdf
GoogleTitle
GlowShift 1,600 PSI Nitrous Pressure NOS Gauge Kit - Electronic Sensor - 52mm - Black 7 Color - Black Gauge Face w/ Clear Lens - 7 Color LED Dial
The comes with an installation guide which is available online and included with your order. You can also visit our library of installation videos which include complete step-by-step tutorials and useful tips on how to install a wide range of GlowShift products.
| | |
| --- | --- |
| Download and Print the PDF | View Our Help Center |
GlowShift | How to Install A Nitrous Pressure Gauge
09:00
This GlowShift Gauges installation video will walk you through the process of installing a 7 Color Series Nitrous Pressure Gauge to your vehicle. Shop Nitrous Gauges: https://bit.ly/2lctaRg Expandable Circuits: https://bit.ly/2lxim0h GlowShift's Nitrous Pressure Gauges allow you to easily monitor your car's nitrous pressure levels from 0 to 1600 PSI. Monitoring these levels is extremely important to ensure you are delivering the correct amount of pressure to your engine, which in-turn safeguards against damaging pistons, connecting rods, crankshafts and more. The included 1/8-27 NPT pressure sensor provides extremely accurate readings and easily installs directly to your nitrous tanks. Find us on social: Facebook: https://www.facebook.com/GlowShift/ Instagram: https://www.instagram.com/GlowShift/ Twitter: https://twitter.com/GlowShift #GlowShift
GlowShift | How to Install A Nitrous Pressure Gauge
This GlowShift Gauges installation video will walk you through the process of installing a 7 Color Series Nitrous Pressure Gauge to your vehicle. Shop Nitrous Gauges: https://bit.ly/2lctaRg Expandable Circuits: https://bit.ly/2lxim0h GlowShift's Nitrous Pressure Gauges allow you to easily monitor your car's nitrous pressure levels from 0 to 1600 PSI. Monitoring these levels is extremely important to ensure you are delivering the correct amount of pressure to your engine, which in-turn safeguards against damaging pistons, connecting rods, crankshafts and more. The included 1/8-27 NPT pressure sensor provides extremely accurate readings and easily installs directly to your nitrous tanks. Find us on social: Facebook: https://www.facebook.com/GlowShift/ Instagram: https://www.instagram.com/GlowShift/ Twitter: https://twitter.com/GlowShift #GlowShift